插件截图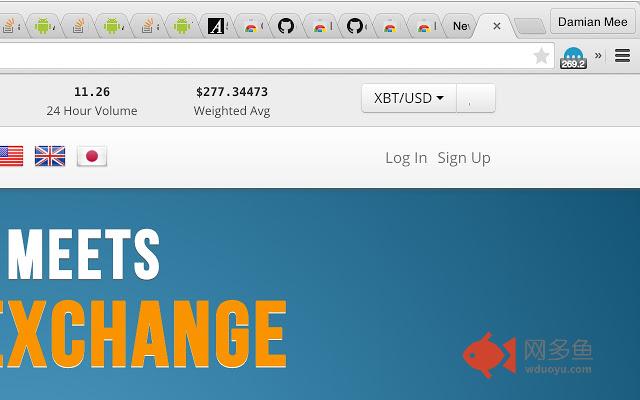 插件概述
Shows Kraken BTC price
插件详情
Just shows the Kraken BTC (Bitcoin) price/rate. It's fetched every 60 seconds or when the user clicks on the icon.
PLUGINS FOR OTHER SERVICES:
Bitstamp: http://goo.gl/LB36jX
Coinbase: http://goo.gl/fhN7Ac
BTCChina: http://goo.gl/9Ye5aa
About badge background colours:
* black - price did not change from last fetch.
* green - price went up
* red - price went down
So... green is good, red is bad ;)
Depending on the rate it might not fit very well. Just right click the icon, select "Options" and from there select your desired price precision.
Also added possibility to configure notifications so user gets notified when price rises over or falls below configured threshold. Once the limit is met, user is notified and the limit is set to that value - and this is repeated every time new limit is crossed. Go disable the notifications or set a new limit if you get annoyed.
source code: https://chester1000/kraken-btc-price
ps. made it for personal use, things might and will break, Kraken might be down (eg. maintenance)
This extension is based on the work of twitter.com/tanel (forked from: http://goo.gl/Dvpchm).
*** This is not an official plugin! ***
The author of this plugin has no affiliation with Kraken., nor is this plugin endorsed or supported in any shape or form by the Kraken.
More info about Kraken can be found from kraken.com
其他信息
官方唯一标识:hbhnkank****************clgleocc
官方最后更新日期:2015年1月11日
分类:生产工具
大小:52.73KiB
版本:0.2.1
语言:English (United States)
提供方:meedamian.com
星级:3
插件下载
温馨提示
本站中的部份内容来源网络和网友发布,纯属个人收集并供大家交流学习参考之用,版权归版权原作者所有。
如果您发现网站上有侵犯您的知识产权的作品,请与我们取得联系,我们会及时修改或删除。
如果您觉得网多鱼对您有帮助,欢迎收藏我们 Ctrl+D。