插件截图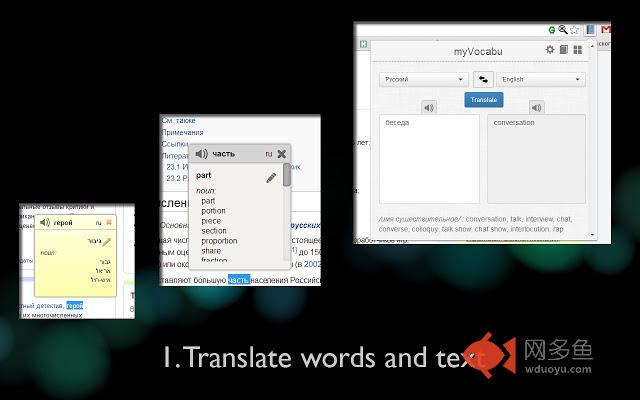 插件概述
Translate, learn and train words from foreign languages
插件详情
This extension allows you to translate words and text in pop-up form using Google Translate API and provides ability to learn and train unfamiliar words.
Features:
✔ supports translation on 91 languages.
✔ configurable pop-up window and 4 variants of pop-up appearance
✔ showing other variants of translation (verb, noun, adverb, etc.)
✔ remember your translations
✔ 7 types of workouts for words
Please refresh target page or create new one after installation to see how extension works. This extension does not work on local pages and in Chrome store (It is Chrome limitations).
If you used previous version of translator and now it does not work, please restart Chrome.
Release history
2.0.1.0
- Added 19 languages (Hausa, Igbo, Maori, Uzbek, etc.)
- Added "Pronunciation" workout (Chrome only)
- Added ability to move words to new/completed stage (translation page)
- Added score multiplier for workouts
- Auto redirect to Google page with Captcha if translate feature are not working
- Updated design for workouts panel, "Vocabulary cards", "Find the pairs", etc.
- Fixed a number of issues (17″ display, sign '#' in sentence, mixing words in "Find the pairs" workout and others)
Supported languages:
Afrikaans - Afrikaans
Albanian - Shqip
Arabic - اللغة العربية
Armenian - հայեր
Azerbaijani - Azərbaycanca
Basque - Euskara
Belarusian - Беларуская
Bengali - বাংলা
Bosnian - Bosanski
Bulgarian - български език
Catalan - català
Cebuano - Sugboanon
Chichewa - Nyanja
Chinese Simplified - 达伟, 汉语
Chinese Traditional - 古文
Croatian - Hrvatski
Czech - Čeština
Danish - Dansk
Dutch - Nederlands
English - English
Esperanto - Esperanto
Estonian - Eesti
Filipino/Tagalog - Wikang Tagalog
Finnish - Suomi
French - Français
Galician - Galego
Georgian - ქართული
German - Deutsch
Greek - Ελληνικά
Gujarati - Taetae ni Kiribati
Haitian Creole - Kreyòl Ayisyen
Hausa - Yaren Hausa
Hebrew - עברית
Hindi - हिन्दी
Hmong - Tiếng H'Mông
Hungarian - Magyar
Icelandic - Íslenska
Igbo - Asụsụ Igbo
Indonesian - Bahasa Indonesia
Irish - Gaeilge
Italian - Italiano
Japanese - 日本語
Javanese - Basa Jawi
Kannada - ಕನ್ನಡ
Kazakh - Қазақ тілі
Khmer - ភាសាខ្មែរ
Korean - 조선말, 한국어
Lao - ພາສາລາວ
Latin - Latina
Latvian - Latviešu
Lithuanian - Lietuvių
Macedonian - Mакедонски
Malagasy - Malagasy
Malay - Bahasa Melayu
Malayalam - മലയാളം
Maltese - Malti
Maori - Te reo Māori
Marathi - मराठी
Mongolian - Mongɣol kele
Myanmar (Burmese) - myanma bhasa
Nepali - नेपाली भाषा
Norwegian - Norsk
Persian - فارسی
Polish - Język Polski
Portuguese - Português
Punjabi - ਪੰਜਾਬੀ
Romanian - Română
Russian - Русский
Serbian - Српски, Srpski
Sesotho - Sesotho
Sinhalese - සිංහල
Slovak - Slovenčina
Slovenian - Slovenščina
Somali - Af-Soomaali‎
Spanish - Español
Sundanese - basa Sunda
Swahili - Kiswahili
Swedish - Svensk
Tajik - тоҷикӣ
Tamil - தமிழ்
Telugu - తెలుగు
Thai - ภาษาไทย
Turkish - Türkçe
Ukrainian - Українська
Urdu - ہندوستانی
Uzbek - Oʻzbek tili
Vietnamese - Tiếng Việt
Welsh - Cymraeg
Yiddish - ייִדיש
Yoruba - Yorùbá
Zulu - isiZulu
其他信息
官方唯一标识:fcoakpba****************bdacjdjm
官方最后更新日期:2019年2月7日
分类:生产工具
大小:2.14MiB
版本:2.1.0.3
语言:支持3种语言
提供方:none
星级:4.8
插件下载
温馨提示
本站中的部份内容来源网络和网友发布,纯属个人收集并供大家交流学习参考之用,版权归版权原作者所有。
如果您发现网站上有侵犯您的知识产权的作品,请与我们取得联系,我们会及时修改或删除。
如果您觉得网多鱼对您有帮助,欢迎收藏我们 Ctrl+D。