BodBot - Personal Trainer & Workout Reminder
插件截图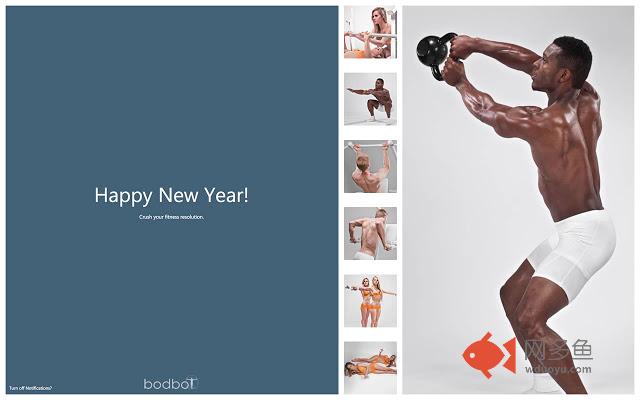 插件概述
Personalized workouts plus reminders to keep you on track
插件详情
BodBot is a free personal trainer and workout reminder. BodBot's sophisticated algorithms will tailor your workouts to your goals, equipment, abilities and more, and will adapt as you progress to maximize results. To keep you on track, it will regularly remind you with your new Chrome tabs and with notifications.
The more you train with BodBot, the more you'll improve body composition, performance and favorable biomarkers. Users who train at least 3 times per week have reported dramatic improvements. Some users have lost over 200lbs, while others have used the app to reach single digit body fat percentage, multiplied their strength and put on impressive amounts of muscle.
Just as a good personal trainer will personalize your workout plan, we create an individual program for you and adapt it as you progress. Limited range of motion in the shoulders? We can work to correct that. Weaker in the back than in the chest? We can address that. Hamstrings too tight? Want to develop the biceps or the glutes? Can only workout in a few windows during the week? BodBot can handle it all, and your workouts will reflect all of these needs. We're committed to providing you with the best possible training plan and the very best workouts. More than this, if you miss a workout, or if you decide to go hiking on a whim, we can integrate this new information and update your training plan accordingly. The plan lives and breathes with you and for you.
So what distinguishes a modern, science-based, intimately personalized training system? What does BodBot do - and why does this matter?
■ Personalization matters. If you broke your leg this morning, you probably shouldn't be attempting heavy squats at night. Similarly, if your sleep has cratered for the past week, or if you suddenly come down with a fever, the previous trajectory of your fitness - along with last week's view of this week's best training plan - becomes obsolete. You need a recommendation that reflects your new circumstances.
■ While changes are rarely this dramatic, a missed workout, an unexpected hike, a bout of insomnia or any of life's other curveballs should not derail you from your training plan or your goals. BodBot can and will handle these changes.
■ People naturally progress at different speeds. Rather than breaking yourself on the yoke of a program that's either too slow or too fast - too inefficient or wildly risky - it is possible to respond to your rate of progress and adapt the training to reflect your own unique work capacity. BodBot will work with you to set the best pace and rate of progression. By contrast, most apps today either use absolutely no system of progression, or static fixed percentage increments.
■ Everyone has a different history: variations in posture, strength, cardiovascular fitness, range of motion, joint stability, joint mobility and much more. These variations matter. Rather than overloading a weak and unstable joint or hammering an already shortened and tight muscle, BodBot will work with you to improve performance and increase efficiency - through targeted fitness tests and objective assessments. This is not the hand-waving personalization of other fitness apps. This is modern, high quality physiology and kinesiology realized in intelligent training recommendations.
■ Accessibility matters - if you're working out at home you should still be able to get a high-quality, targeted workout - not an arbitrary infinite loop of burpees, wall-squats and crunches. BodBot's database of broad and deep exercise profiles, together with the sophisticated algorithms that run over the top of them, seamlessly handle changes in location and equipment. Similarly, schedules can run tight and can change - if your default Monday, Wednesday, Friday pattern is interrupted, or you suddenly have less time available than expected, BodBot will immediately adjust your training plan.
■ Specificity matters - beating about the knees with a tire iron will certainly provoke soreness and perhaps even work up a sweat - but it will not generate favorable improvements in performance (assuming self-assault does not become the new fad) or body composition and certainly not wellness. It's the type of stimulus, not the magnitude of pain, that dictates results - BodBot will use each and every drop of sweat to help you achieve the results you want.
*****USER TESTIMONIALS*****
* "This is a godsend."
* "I lost 50lbs of fat and gained 18lbs of muscle. I never had biceps before and now my biceps are over 16 inches. It's made a huge difference in my life."
* "I have never been this lean before. I've done weightwatchers and myfitnesspal in the past but these workouts have made the difference"
* "I strengthened my whole lower body, my hamstrings, quads and glutes have never been so strong and I've never been so athletic. I lift so much more my coach joked I'm on steroids. Haha, not on steroids I'm on BodBot."
* "I feel better and my thighs and butt look better than ever, even my posture has improved."
* "I was always intimidated by weightlifting and strength training, but bodbot eased me through it and I'm stronger than ever."
* "With the help of my Bodbot trainer and a lot of hard work, I have now lost 163 lbs! I am now down under 300 lbs and have lost 13 inches or 6 pant sizes off my waist. I feel like a whole new person and I love it. Thanks for your help Bodbot."
其他信息
官方唯一标识:naecdimi****************ccoadjlj
官方最后更新日期:2018年1月3日
分类:体育
大小:124KiB
版本:1.5
语言:English
提供方:bodbot.com
星级:4.2
插件下载
温馨提示
本站中的部份内容来源网络和网友发布,纯属个人收集并供大家交流学习参考之用,版权归版权原作者所有。
如果您发现网站上有侵犯您的知识产权的作品,请与我们取得联系,我们会及时修改或删除。
如果您觉得网多鱼对您有帮助,欢迎收藏我们 Ctrl+D。