插件截图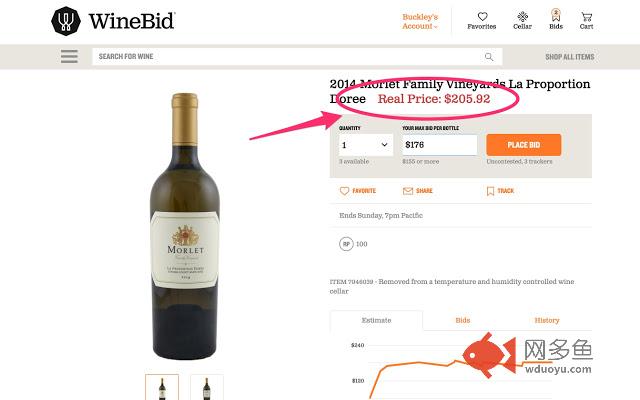 插件概述
Show the total price after winebid.com's 17% markup
插件详情
Find winery direct wine on winebid.com from private sellers. We make the prices transparent when browsing and viewing wine from winebid.com before you place your bid!
Normally you wouldn't see winebid.com's markup until right before you placed the bid. It makes it very hard to browse and know exactly how much you would actually be bidding. This extension alleviates that and changes the price right on the listings page when searching for wine, and on the individual wine page when you adjust your bid. This extension will make sure you know the total cost without going through the multi-step process of confirming a bid.
Once you install the extension, all the listings and your bidding will display the price you'll pay after winebid.com's 17% markup. It allows easier browsing and quicker decision making about the wines you want without breaking out your calculator to determine if the pricing is market value.
其他信息
官方唯一标识:hlfclhce****************hgihdpig
官方最后更新日期:2019年6月2日
分类:购物
大小:23.22KiB
版本:0.3.0
语言:English
提供方:none
星级:5
插件下载
温馨提示
本站中的部份内容来源网络和网友发布,纯属个人收集并供大家交流学习参考之用,版权归版权原作者所有。
如果您发现网站上有侵犯您的知识产权的作品,请与我们取得联系,我们会及时修改或删除。
如果您觉得网多鱼对您有帮助,欢迎收藏我们 Ctrl+D。