插件截图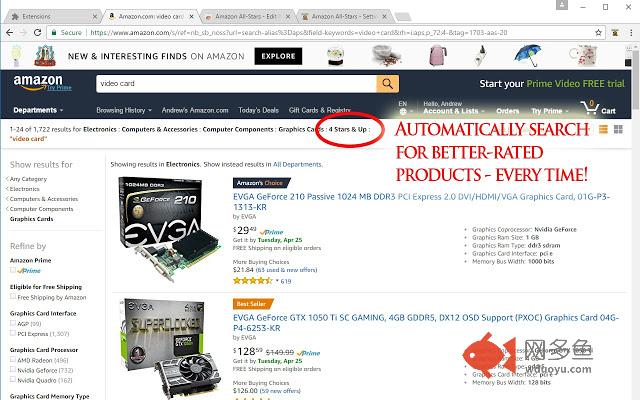 插件概述
Never buy junk, again. Amazon All-Stars filters out products below a certain rating from your Amazon search results.
插件详情
NOTE: WE RESPECT YOUR PRIVACY AND WILL NOT ACCESS YOUR BROWSING HISTORY, EVER! See below for more information.
Welcome to Amazon All-stars! This lightweight Chrome extension helps your searches *always* meet your ratings standards. It works magically while you shop.
No more clicking "Avg Cust Review: 4✯'s" for every single search (which is what always I did constantly). And that's why I made this extension: (1) to save time (I never had to click 4★+ again, nor refund poor products) and (2) to *discover* awesome products I never knew existed. And I decided to publish it freely, so anyone could enjoy the benefits of the best of Amazon.
Save yourself from underrated or poor-quality products! Amazon All-stars trims the junk and shows you the very best.
PS: Even though Chrome says Amazon All-Stars will need access to your browsing history, we absolutely do NOT access it at all - and will never access your personal information, ever, by our developer pledge! Our extension just doesn't work without the permission set that gives access to your browser tabs, which requires displaying that message.
其他信息
官方唯一标识:mmcmeioe****************klooflig
官方最后更新日期:2017年7月6日
分类:购物
大小:230KiB
版本:1.0.1.3
语言:English
提供方:none
星级:5
插件下载
温馨提示
本站中的部份内容来源网络和网友发布,纯属个人收集并供大家交流学习参考之用,版权归版权原作者所有。
如果您发现网站上有侵犯您的知识产权的作品,请与我们取得联系,我们会及时修改或删除。
如果您觉得网多鱼对您有帮助,欢迎收藏我们 Ctrl+D。