Ali Hunter - AliExpress Product Tracker
插件截图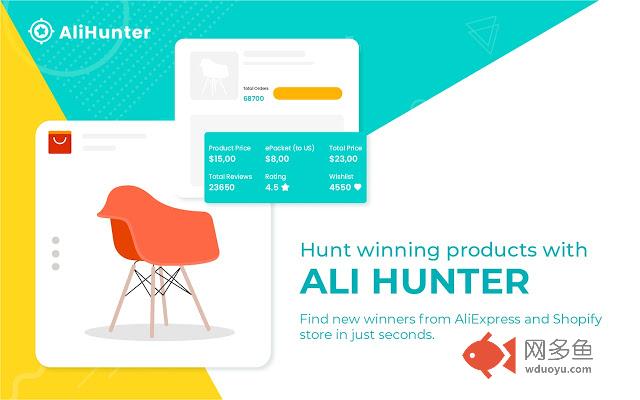 插件概述
AliExpress tool for price tracking, seller rating & order listing. Must have for dropship & online shopping.
插件详情
Winning dropshipping with AliHunter
Check AliExpress product page
- Supplier's Profile: Check seller's trust level to only buy from reliable sellers.
- Product Overview: Check price, total orders, reviews rating, e-packet shipping cost and more.
- Find seller on Shopify: find the exact stores that are selling the product from AliExpress.
- Order History: Predict trend on orders history over the last 3 months and top best-selling countries, tap into winning products and profitable market to sell.
- Price History: Display the price fluctuation with max and min price value, let you know the perfect price points and time to start buying to maximize profits.
Check Shopify online store
- Shop Overview: Track shop name, theme name, product list, social link.
- Best-selling products: See top items that your competitors are already successfully selling.
- Quick product finding: Find the exact product from your competitors store on AliExpress.
- Apps listing: Show all installed apps on your competitors stores.
- Detect facebook ads: show all running ads from Shopify store's fanpage.
If you have any questions feel free to contact us at support@fireapps.io.
其他信息
官方唯一标识:mpajidob****************ldjcpgfh
官方最后更新日期:2019年6月29日
分类:购物
大小:592KiB
版本:2.6.3.17
语言:English
提供方:https://alihunter.io
星级:3.4
插件下载
温馨提示
本站中的部份内容来源网络和网友发布,纯属个人收集并供大家交流学习参考之用,版权归版权原作者所有。
如果您发现网站上有侵犯您的知识产权的作品,请与我们取得联系,我们会及时修改或删除。
如果您觉得网多鱼对您有帮助,欢迎收藏我们 Ctrl+D。