插件截图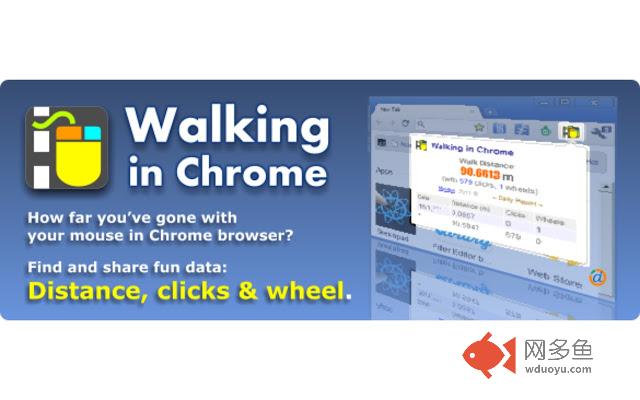 插件概述
Walking in Chrome: walked distance, clicks & wheels on the web
插件详情
Find out how far you have walked on the web in Chrome, and how many clicks you've made.
( No network requests in this extension, BTW: inside Chrome Web Store, it keeps still... )
Have fun :-) using "Walking in Chrome"
Any suggestion is welcome.
update log,
----------------------------
v2.1 (24/3, 2011) Text updated, donate link, website link
v2.0 (8/3, 2011) UI updated
v1.9 (26/2, 2011) daily date sort bug fixed
v1.8 (23/2, 2011) bug fixing and optimization
v1.7 (16/2, 2011) fix share text bug, update scrollbar of daily distance
v1.6 (25/1, 2011) optimize size and view, add animation to share icons.
v1.5 (23/1, 2011) add share bar
v1.3/1.4 (16/1, 2011) append mouse wheel data, providing daily history :-)
v1.2 change to another API to avoid memory leak problem caused by sendRequest API.
----------------------------
Developed by Mindon Feng
http://mindon.appspot.com/
其他信息
官方唯一标识:pacjmfod****************lblmmehf
官方最后更新日期:2012年10月31日
分类:生产工具
大小:21.7KiB
版本:2.5
语言:English
提供方:mindon.appspot.com
星级:4.8
插件下载
温馨提示
本站中的部份内容来源网络和网友发布,纯属个人收集并供大家交流学习参考之用,版权归版权原作者所有。
如果您发现网站上有侵犯您的知识产权的作品,请与我们取得联系,我们会及时修改或删除。
如果您觉得网多鱼对您有帮助,欢迎收藏我们 Ctrl+D。