插件截图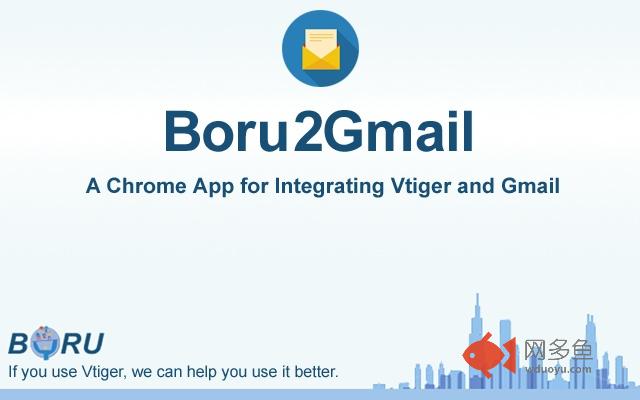 插件概述
Gmail users, are you working for Vtiger or is Vtiger working for you? You can download Boru2Gmail and make Vtiger respond to your…
插件详情
Gmail users, are you working for Vtiger or is Vtiger working for you? You can download Boru2Gmail and make Vtiger respond to your needs like never before. Note: Boru2Gmail is free.
Boru2Gmail is a Chrome App that brings the power of your Vtiger CRM right into your Gmail window. As you work through your Inbox, Boru2Gmail transparently links to Vtiger, matching the sender's email address to Leads and Contacts already in your CRM and providing a real-time link to associated records in the Organization, Calendar, Quotes, Invoices, Emails, and Comments modules.
With each email you open, the crucial information you need to respond quickly and accurately to your customers appears seamlessly in Gmail's sidebar. Attach the email to your Vtiger Contact with a single click. If no Lead or Contact exists with that email address, a single click creates the record with name and email address entered automatically. How many messages do you receive every day that send you scrambling to find information in Vtiger? With Boru2Gmail, you'll save seconds of your valuable time with every customer message you receive. Don't work for Vtiger--make Vtiger work for you!
其他信息
官方唯一标识:aomafjod****************fecdlbid
官方最后更新日期:2018年10月5日
分类:生产工具
大小:919KiB
版本:1.3.18
语言:English (United States)
提供方:www.boruapps.com
星级:4.8
插件下载
温馨提示
本站中的部份内容来源网络和网友发布,纯属个人收集并供大家交流学习参考之用,版权归版权原作者所有。
如果您发现网站上有侵犯您的知识产权的作品,请与我们取得联系,我们会及时修改或删除。
如果您觉得网多鱼对您有帮助,欢迎收藏我们 Ctrl+D。