Cats Facts HD Wallpaper New Tab
插件截图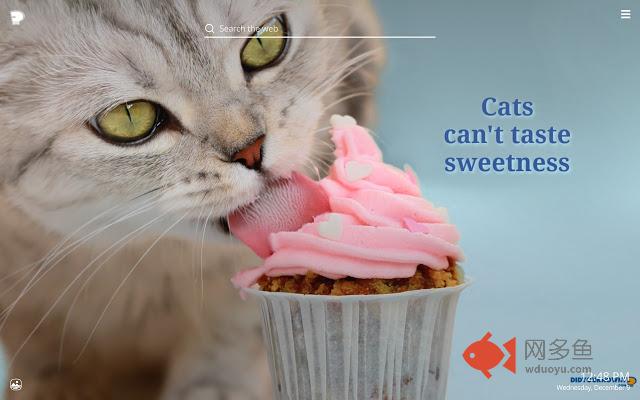 插件概述
It's a well-known fact that cats rule the internet. Here are little facts about your pet that may surprise you!
插件详情
Learn interesting feline facts while enjoying cute HD wallpaper images. Explore lovely HD wallpaper images with cats' facts and learn more about your favorite pet every time you open a new tab.
Did You Know? Cats HD Wallpapers New Tab Theme is your gateway to a beautiful journey, where you can personalize everything to your liking, share with your network and stay on top of things by getting organized and track your to-do list.
Features:
• Customize the dashboard to your taste
• Keep track of your goals with to-do list
• Stunning images with every new tab
• New inspirational photos added regularly
• Search the web using Google
• Feel good with chill out music
• Quick access to most visited web sites
• Show apps and bookmarks on new tab
• Live weather updates of your current location
• Custom background: up to 20 personal images
Visit our homepage for more HD wallpapers and new tab themes: https://didyouknownt.com
Also check out our MyStart Blog to have the latest news on our site and articles about various topics such as pets, wild animals, natural wonders of the world, famous landmarks and healthy lifestyle tips: https://blog.mystart.com
KEEP IN TOUCH
Facebook:
https://www.facebook.com/MyStart
Instagram:
https://www.instagram.com/mystartnewtab
Pinterest:
https://www.pinterest.ca/mystart0561
其他信息
官方唯一标识:cdlogcag****************ffoneehe
官方最后更新日期:2018年9月20日
分类:图片
大小:625KiB
版本:2.18.14
语言:English
提供方:didyouknownt.com
星级:5
插件下载
温馨提示
本站中的部份内容来源网络和网友发布,纯属个人收集并供大家交流学习参考之用,版权归版权原作者所有。
如果您发现网站上有侵犯您的知识产权的作品,请与我们取得联系,我们会及时修改或删除。
如果您觉得网多鱼对您有帮助,欢迎收藏我们 Ctrl+D。