插件截图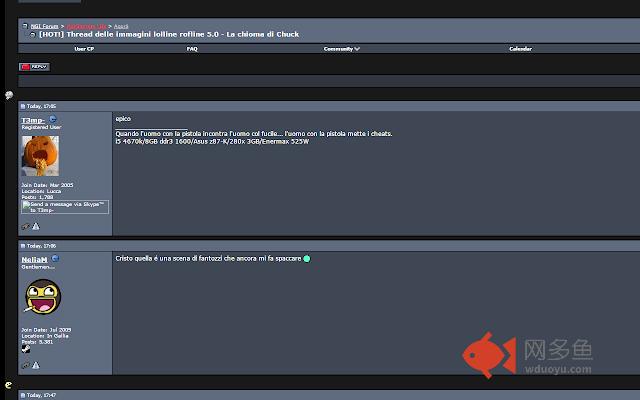 插件概述
NGI Gaming Don't Get Mad - Ignore annoying users on NGI Forums.
插件详情
Lightweight vBulletin ignore for NGI Gaming Forums.
Every post on gaming.ngi forums will now display an emoticon following the poster nickname. By clicking this the user will be placed in an ignore list. This list does not reside on the server, nor over the internetz, it is stored locally.
If you're logged in a Google account, this local storage will be made available by Google on any future browsing of the forum with that Google account logged in Chrome.
Ignored user(s) messages will be hidden in the board but displayable at your own risk by clicking the :afraid: icon that replaces them. (hovering the emoticon will tell you who's the owner of that source of rage)
Any quote(s) made by other users regarding someone in your "don't get mad list" won't be displayed too. If you enjoy risk, quotes of ignored users are replaced by the :v emoticon, just click it to see the content.
Every ignored user can be removed by opening one of their hidden posts and click on the emoticon after their nickname, like you did to hide them.
No content is sent to the site (*.ngi.it) nor outside. All the information are stored in your local account area.
其他信息
官方唯一标识:fgbkkfog****************gfhidllb
官方最后更新日期:2017年4月26日
分类:社交与通讯
大小:50.88KiB
版本:1.1
语言:italiano
提供方:none
星级:5
插件下载
温馨提示
本站中的部份内容来源网络和网友发布,纯属个人收集并供大家交流学习参考之用,版权归版权原作者所有。
如果您发现网站上有侵犯您的知识产权的作品,请与我们取得联系,我们会及时修改或删除。
如果您觉得网多鱼对您有帮助,欢迎收藏我们 Ctrl+D。