插件截图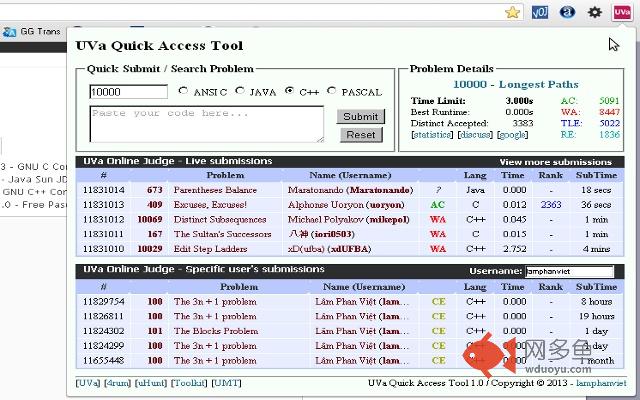 插件概述
[Tool for UVa Online Judge] This tool helps you quick access to the live judge, submissions, quick submit form and problem details
插件详情
This is a small tool for UVa Online Judge - http://uva.onlinejudge.org/.
No need to open a new tab, just in ONE CLICK, you can:
1. Submit your problem solution to UVa.
2. Have detailed information of one problem: name, time limit, some statistics (best running time, number of AC/WA/TLE/RE submissions) and some useful quick links related to the problem.
3. Watch UVa live submissions (auto updated).
4. Keep track of submissions of a specific user (auto updated).
If you have any feedback, please send your email to address lamphanviet@gmail.com. Any ideas will be valued.
Have fun solving problems :).
Additional information: This tool is developed based on some components of UVa Management Tool - http://umt.boocode.com/, which is also a tool for UVa Online Judge; and uHunt APIs - http://uhunt.felix-halim.net/, which provides lots of useful functions and statistics of UVa Online Judge.
Change logs:
*Version 1.1.3
- Update user submission URL API
*Version 1.1.2
- Add link to uDebug (http://www.udebug.com/) tool in footer.
*Version 1.1.1
- Add new language: C++11
其他信息
官方唯一标识:ohmmnbco****************dmkgllhe
官方最后更新日期:2016年10月8日
分类:辅助工具
大小:54.15KiB
版本:1.1.3
语言:English
提供方:none
星级:4.1
插件下载
温馨提示
本站中的部份内容来源网络和网友发布,纯属个人收集并供大家交流学习参考之用,版权归版权原作者所有。
如果您发现网站上有侵犯您的知识产权的作品,请与我们取得联系,我们会及时修改或删除。
如果您觉得网多鱼对您有帮助,欢迎收藏我们 Ctrl+D。