插件截图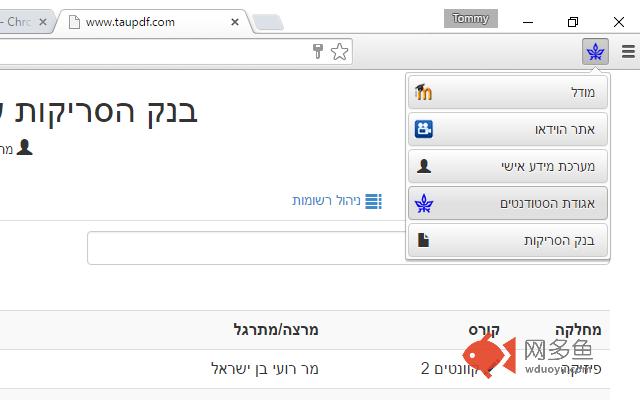 插件概述
An extension that will change your life. forever.
插件详情
This extension improves your daily use in variety of Tel Aviv University websites.
Changelog
========
Version 1.6.9: Login Bug Fix [caused due to latest chrome update]
Version 1.6.8: Added Uni. Cloud Apps + sorry, option for downloading lectures is temporarily disabled :(
Version 1.6.7: Video Download FIX
Version 1.6.6: Added Courses to VideoTau site
Version 1.6.5: Video Download Link Fixed
Version 1.6.4: Bug Fixes
Version 1.6.3: New "Personal Info System" login page support
Version 1.6.2: Added 4 new degrees [Tau Video Site]
Version 1.6.1: New Name!
Version 1.6: New Logo!
Version 1.5.8: Academic Bank Button :)
Version 1.5.5-1.5.7: bug fixes
Version 1.5.4: TAU's new Moodle site support
Version 1.5.3: Quick travel to TAU's websites
Version 1.5.2: Quick links for opening videos externally [VideoTAU]
New features in version 1.5.1
=============================
- Multi-User support
- Easily Cycle through preset courses on Tau's Video site [VideoTAU]
- Only one click to login for a single user
- New animations! (+New icon)
- Stability improvements!
- Bug fixes!
Supported TAU's websites:
- My TAU
- Moodle
- VideoTAU
- Tau's Wifi login page [public-tau]
其他信息
官方唯一标识:ekjalehl****************hiocdjch
官方最后更新日期:2016年3月7日
分类:辅助工具
大小:111KiB
版本:1.6.9
语言:עברית
提供方:none
星级:4.6
插件下载
温馨提示
本站中的部份内容来源网络和网友发布,纯属个人收集并供大家交流学习参考之用,版权归版权原作者所有。
如果您发现网站上有侵犯您的知识产权的作品,请与我们取得联系,我们会及时修改或删除。
如果您觉得网多鱼对您有帮助,欢迎收藏我们 Ctrl+D。