插件截图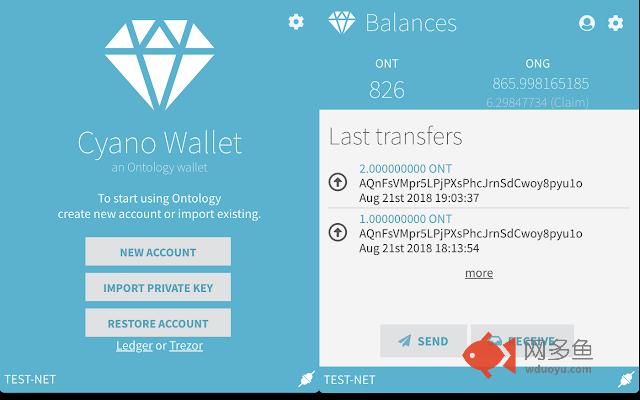 插件概述
Cyano wallet - an Ontology wallet
插件详情
WebExtension wallet for the Ontology blockchain compatible with Chrome.
Security
When using this extension be responsible. You can follow some of these security tips:
* Divide your assets between Cold (little use) and Hot (active use) wallet
* Regularly check your balances
* Use hardware wallet for your Cold wallet
* Do not use Smart contract whitelisting on your Cold wallet
What does it currently do:
Create a wallet using mnemonics phrase
Encrypt a Private Key
Login with Mnemonics phrase, Private Key or a stored account.
Wallet Export/Import
Ledger support
Trezor support
View balance
Send ONG and ONT
Withdraw (claim) ONG
Switch networks (Test/Main/Private) with TLS support
ONT ID support
Ontology dAPI support
NEO and ONT address support for normal and Ledger accounts
OEP-4 tokens
Privacy policy
Visit https://github.com/OntologyCommunityDevelopers/cyano-wallet/blob/master/PRIVACY.md to see the whole privacy policy.
其他信息
官方唯一标识:dkdedlpg****************eamfklkm
官方最后更新日期:2019年7月8日
分类:生产工具
大小:6.59MiB
版本:0.7.14
语言:English
提供方:none
星级:4.4
插件下载
温馨提示
本站中的部份内容来源网络和网友发布,纯属个人收集并供大家交流学习参考之用,版权归版权原作者所有。
如果您发现网站上有侵犯您的知识产权的作品,请与我们取得联系,我们会及时修改或删除。
如果您觉得网多鱼对您有帮助,欢迎收藏我们 Ctrl+D。